WORSHIP ON WHEELS HAS $12,676 IN CURRENT 1 TIME CAPITAL NEEDS TO FINISH OUT OUR 2017 GOALS:
​
$1,700 (PHP 85,000) – Remaining Air-conditioner/Install (4 HP Koppel inverter type floor standing model)
$700 (PHP 35,000) – Grading/Dirt/Sod for Mission House (Installing 2,250 sq. ft of good soil and Caribao Grass)
$600 (PHP 30,000) – Voltage Regulator for House (Incoming power fluctuates and has burned up some of our equipment)
$3,500 (PHP 175,000) – Dorm Project to + 2nd room/10 Beds
$560 (PHP 28,000) – 12 Months of Pest Control (Living in a tropical climate brings lots of insects which brings attracts larger pests - lizards)
PLEASE CONSIDER PARTNERING WITH WOW, TO FILL ANY OF THESE NEEDS BEFORE THE NEW YEAR. EMAIL US IF YOU HAVE SPECIFIC QUESTIONS ABOUT 1 OR ALL OF THEM. ALL GIFTS TO W.O.W. GO THROUGH CMC (CENTRAL MISSIONARY CLEARINGHOUSE) AND ARE TAX-DEDUCTIBLE.
Our 5 year plan includes purchasing an adjoining lot next to the WOW Mission house. We have vacant lots on either side of us and would like to have the ability to expand, when needed. If you are interested in meeting this LARGE need, we can give you more details. Each property will sell for somewhere in the $45,000 range.
---
Our Partners Make It Happen

We were very blessed to have such great team members in the States. They have prayed for us and trusted in us to do God's will with their finances and prayer. I see them as equal in this relationship. Our family's housing and daily needs, in the Philippines, are met by the pension that we were blessed with, but W.O.W.'s reach is short with only our personal funds. As the gift givers, you will directly and purposefully extend the hands and feet of Jesus with this mission. And best of all, you will see and hear exactly what your funds are doing. You are not paying us a salary or for our groceries, etc. It all goes to God's outreach!

My goal has been to keep people directly involved in W.O.W. We want to be a straight line from you to these children and make this as personal as possible so you know what it is like to be here and answer God's calling. I want to meet with you on SKYPE and personally answer your emails. You can do a lot of things with your money and I assure you that this will be one of your greatest returns on investment.

Worship On Wheels is truly a partnership. Our family is only the labor in the Philippines. Without members in the U.S. working at their daily jobs and supporting this ministry, it will not be. It is our prayer that every partner will be able to come to the Philippines and see and experience what YOU make possible. I promise you - there is no feeling like it!

The

Texas Baptist Men

at

University Baptist Church

, provided us with 2 Cambro catering containers. Currently, we are looking for ways to make our feeding sites more efficient, so we can feed more kids, more often. Our tribal feeding sites with Darrell & Tina Cheeks take cooking equipment (including gas tanks), groceries and anything else needed up steep mountainsides. We began using these containers to take the food, already prepared, to the feeding areas. Thanks so much for these provisions!

On our 2015 & 2017 visits to Tulsa, Oklahoma, we were connected with an incredible non-profit:

Christ For Humanity

. They provide free medicine to Christian Organizations all over the world. We visited these wonderful people and filled up a box with over 100 pounds of medicines for children and adults. Worship On Wheels is now capable of doing medical missions and provide orphanages with supplies for very little cost. We have the transportation covered with our vehicles. God has provided volunteer doctors, nurses and dentists and now the medicines have been given for free. Our Lord is so faithful to fill ​the needs of his people.

---
---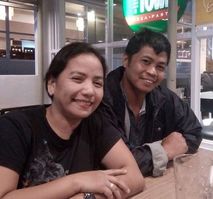 ​SALARIES FOR ROLAND AND MJ HAVE BEEN FUNDED FOR THE YEAR!!!
​MONTHLY NEEDS: W.O.W. is growing faster than we ever thought. Thai and I are "spread thin" and we are currently hoping to take on another LOCAL FILIPINO couple to double our productivity for God's work. The couple would be paid about $500/month to work full-time for us. If your church, your family or you want to help create Christian-based jobs in the Philippines, please consider providing for the W.O.W. payroll. ​

MJ has been working with our VBS and children's outreach for 3 years and counting. She is a wonderful addition to our staff and works as if God is her boss. Always cheerful, always patient and kind and is a blessing to the children we serve. She will continue to serve as a VBS teacher and will additionally work as a host for our mission teams and help coordinate the additional outreach programs we will begin this year.

Roland is a godly husband & father. He has been an incredible host to our first overseas team. He will work with us as a full-time driver, care-taker & cook (he is a trained chef), along with many other duties. Roland can do anything! We look forward to having the two of them and their children as part of our W.O.W. family.
---
---
Anyone Can Be A Missionary: Going, Sending and Praying

Please, prayerfully, consider sending or giving

Tax Deductible

online gifts:

Please go to:
www.cmcmissions.org
Use the "click&give" for online donations and under "Select Account" choose "Beaver, Troy" from the drop down list.or mail gifts to

CENTRAL MISSIONARY CLEARINGHOUSE
P.O. Box 219228Houston, Texas 77218-9228

Payable to: CMC or Central Missionary Clearinghouse*

*

Please send the DONOR form below with 1st Donation Check Only Salamat Po! - as we do God's work together!