Maker Fun Factory Philippines is Beginning!!!

The NEW 4 Wheel Drive Blessing is heading out on the VBS Trainings & Tour soon!!! This is a "Game-Changer" for W.O.W. outreach.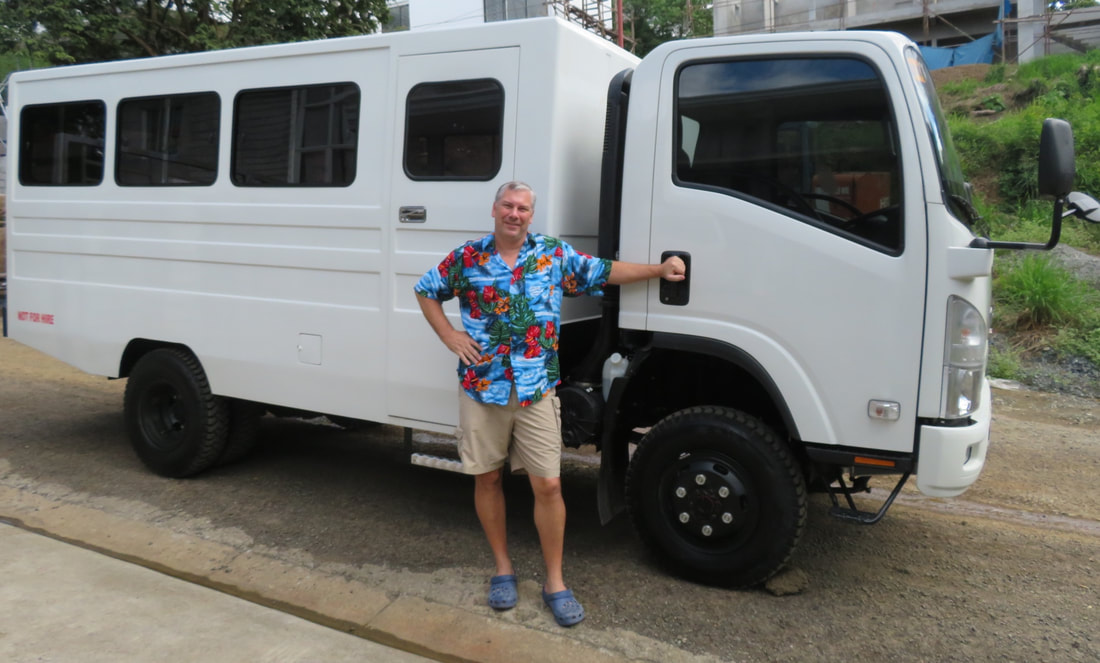 ---
Our UBC Vision Team had a great visit! We experienced a LOT together. Travelling by Plane, Boat, Van, Tricycle, Jeepney, Caribao Cart and Hiking through rivers and through the jungle on foot. They experienced what W.O.W. is doing in the Philippines. We look forward to an upcoming July 2018 Mission Team from H-Town. It was great having this group of creative thinkers to help us improve our ministry and extend our reach to those who have been unreachable.
Video of UBC Vision Team in the Philippines:
---
Here is a Video From the W.O.W. Summer 2016 Vacation Bible School Tour
EVEREST FINISHED TOURING IN THE PHILIPPINES!
We received UBC's large boxes of Vacation Bible School materials at our home in Antipolo City, Philippines. Those boxes had everything we needed for our summer VBS programs in the Philippines. We always have 100 + churches that want us to visit, but our staff and resources are so very limited. We chose 7 churches in 7 weeks this past summer. The children were so filled with joy, when we transformed there small neighborhood churches & common areas into an Everest themed wonderland. Our boxes contained flashing icicles, manuals, posters, standing props, science experiment supplies, T-shirts, streamers, DVDs and so many other great things for the transformations. We also received items from California to South Carolina. Tulsa, OK & Heyworth, IL, all the way down to Houston. All Glory to God!
---
Thanks to all of those who listened to our story and are now supporting us with gifts and prayer. We look forward to another year in the Philippines serving our Lord and Savior and loving on His children. Although, the Beaver family is sometimes staring at a mountain. We have a big God that can make all things possible. Incredible things happen when God's people Go, Give & Pray!
Are you interested in a financial partnership or meeting current "end of the year" capital needs with W.O.W.? See our "Partners Page"
---
This is the Story of Worship On Wheels Philippines
---
---
Everest VBS in the Philippines looks like this.....Maraming Salamat to our supporters for making this possible!!!
---
The Beginning of a Great Sabbatical
Our UBC Children's Pastor, Karen Murphy came to visit us in the Philippines to kickoff her sabbatical. It was great to show her what her Vacation Bible School programs look like when they are recycled in the impoverished areas and tribal villages of the Philippines. Enjoy the rest of your "rest" time. Reflect on all the lives that you have changed for the good of God's Kingdom and we're looking forward to an incredible continued partnership with UBC children's ministry. Below is a video of Pastor Karen & Mary's visit:
---
---
Convoy of Hope Philippines is Supplying free Food for W.O.W. for a 4th year.
We have renewed an agreement with Convoy of Hope, which is based in the U.S. and will supply us with about 25,000 meals per month AT NO COST! We currently distribute these meals to area churches, schools and tribal areas. The enriched rice mix is served to children who need it most, as we present our audio/visual programs to the sites on a daily basis, feeding them spiritually AND physically. They also supply us with vitamin supplements, medical supplies, Toms Giveaway Shoes, and many other needs.
---
How Does Food Get Delivered to the Villages, You Ask?
---
Donate a vehicle to Macedonian Call foundation for missionary families on furlough
During our furlough,
Macedonian Call Foundation of Texas
was a HUGE BLESSING! When missionaries come home for Reporting, Resting and Re-acclimating to the U.S. - it does not make sense to buy a vehicle for 6-12 months. MCFTX provides vehicles to families like ours for short terms. We pay a small deposit and monthly insurance. The less a family has to worry about when "coming home", the better. Please go to the non-profit website,
www.mcftx.org
if you have a unwanted or unused vehicle of any kind, you can get a tax-deductible receipt for the
FULL BLUE BOOK VALUE
. A vehicle can be a "REAL BLESSING" to those answering God's call overseas!